Let us ask you a question, Have you got a favourite Superhero? Well this months interviewee definitely has! in fact he loves the character so much his entire collection is based upon his favourite hero, Wolverine and he's not done bad at all!
for those of you that don't know, wolverine is fictional superhero that appears in comic books by Marvel most commonly with the X-Men. He's a mutant know as Logan who possesses animal keen senses, enhanced abilities and powerful regenerative healing powers. He is one of the most famous heroes from Marvel and has a world wide following and many comics, actions figures, and movies to his name. Which leads us to Lincoln in the United Kingdom and Steve, who owns one of the best
wolverine collections
we have seen.
He has been kind enough to let us have a look around and answer some of our questions. Lets get started.
Hi Steve, thanks for joining us today hope you are well.
No problem bub.
Could you give us a quick bit of information about yourself?
My name is Stephen "Wolversteve" Paulson, i'm 36 from Lincoln UK.
So taking a look at your images its pretty obvious what you like to collect but do you class yourself as a collector or as a dealer?
I'm just a collector of anything and everything wolverine.
So for how long have your been collecting?
I have been collecting for 26 years!
That is a long time to create your collection, You now have a lot of wolverine figures but apart from wolverine, growing up what was your favourite action figure?
My favourite figure as a kid was
He-man from the Masters of the Universe
line by Mattel. The figures and the cartoon were just incredible and like nothing id ever seen before at that age. The stories were just brilliant, and Skeletor was an amazing baddie, so for me it it was the complete package.
So what do you like about collecting?
I like the buzz from adding a new piece to the collection.
Well you have a loads of wolverine figures and merchandise but which piece was your best find that you are most proud of?
Best find? The best find I'm most proud of is a Japanese Manga Wolverine which I've never seen before or since, paid £45 for him and it's a great piece, I am very proud of that.
That's cool! but if you didn't have your collection and you had to buy one piece, what would it be?
This Marvel Selects 'The Wolverine' Special Collectors Edition Figure, its not the most expensive by a long way but I bloody love it, so much I bought two like every good collector!
That's the best way to do it! it can get expensive though, Do you collect mint on Card, Loose, or a bit of both?
I collect mint where I can but like to have a second one that either I've opened or buy it second hand just to see what they're like out of the packet and check what they were made for!
Do you have something in your collection that if some one offered to buy it from you, no amount of money could part if from you?
No amount of money would make me part with my custom £2100 Wolverine suit based on the Days of future concept art for Logan with the mask based on the teaser alternate ending from the Wolverine. There's no suit like mine in the world!
Thats so awesome! So your a fan of customisation then. Are you a fan of custom action figures?
I'm a fan of custom figures when they're done to a high standard, when they're done right, they can be better than mass produced ones by far.
Totally agree, there are some amazing pieces out there made by some very talented people. and some that also collect the same or similar items, Do you look at other peoples collections and try to better them or do you stick to your own style of wolverine collection.
I love to see other peoples collections, it's intriguing to see what other people have kept and collected over the years.
Is there anything else you collect?
I also collect comics (Wolverine again).
Excellent how many have you got?
I have over 3000 which again started my affection for the character. The point where my little son is named Logan!
Oh wow, that's awesome, I take it he likes wolverine then?
Well actually he doesn't! He has got a very independent head for a five year old. but he knows that im wolverine and he is Spider-man.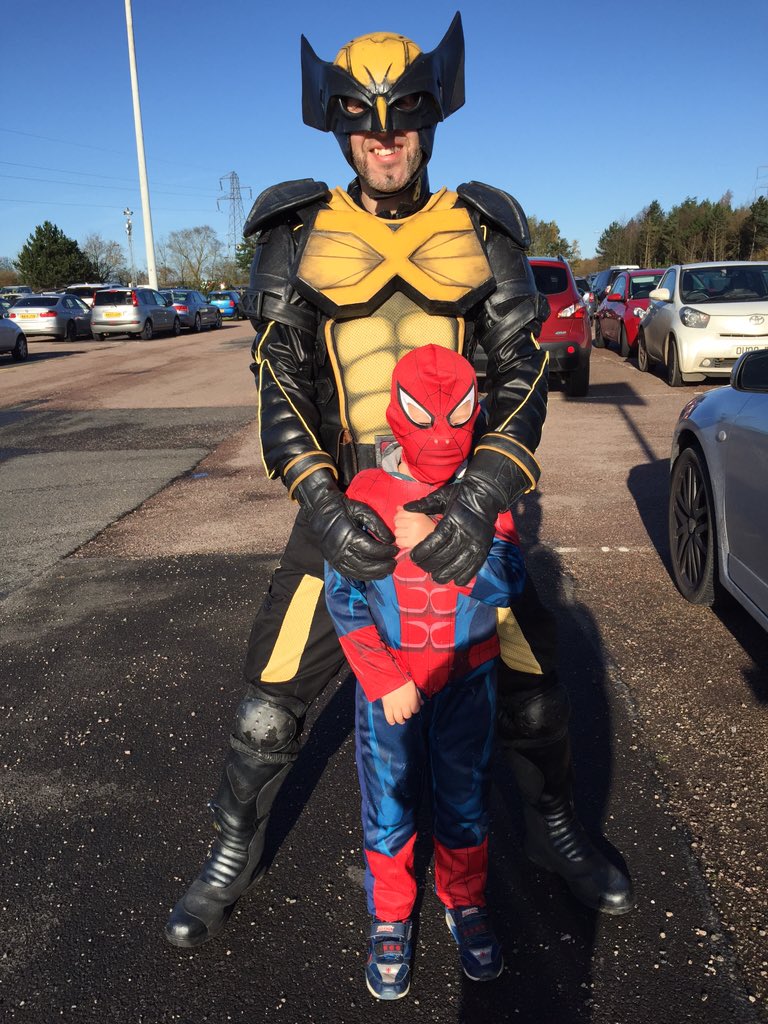 That's so sweet, well thanks for taking your time to answer our questions, we really appreciate it and wish you good luck with all your future collections. I look forward to seeing the collection in another 26years! who knows how big it can go! Take care.
Thanks Bub its been a pleasure!
If you would like to find out more about Steve and his collection you can follow him on Twitter or find him on Facebook.


Twitter @WolverSteve
Have you got a collection you would like to share? then get in contact with us we would love to hear from you!