Hey guys, today we are taking a look at The 2005 Collectors box set edition of the Marvel Legends Fantastic Four by Toybiz.

First lets take a look at what's included in the box,
we have all four characters which include Johnny Storm the Human
an Torch, Ben Grimm "The Thing", Reed Richards, and Sue Richards the Invisible women.
All come with Collector display stands which show the Fantastic four emblem.
Also included is the special poster book which has 18 different images to add to fans collections.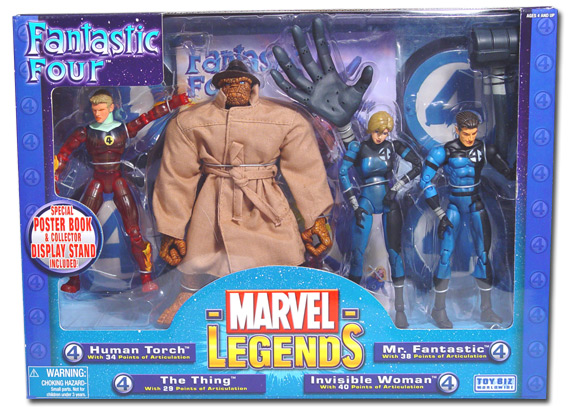 The box is Blue with Stars to make the packaging look like space, with the four figures suspended at the front in a line.
On the reverse of the box there is a description of powers for each of the four characters, which include Intelligence, Strength, Speed, Durability, Energy Projection, and Fighting skills. Mr. Fantastic wins in the intelligence, The Thing wins in the strength department, while The Invisible Woman and Human Torch both follow up with the Energy Projection skill.
Next to the Power grid rating is a brief description of the heroes. Im sure we all know the story of the fantastic four by now but a little description of how they got their powers never hurt anyone.
Reed Richards, Sue Richards, Benjamin Grimm, Johnny Storm. All adventurers at heart, they rocketed into space in an experimental starship, the first humans to attempt interstellar travel. But a freak encounter with cosmic rays changed their lives forever, granting each unique powers.
Financed by the profits from Reeds inventions, Mr Fantastic, the Invisible Woman, the Thing and the Human Torch turned tragedy into triumph. From that day forward, they began new lives. As a family and a team, the Fantastic Four ushered in the Age of Marvels. Pioneers of science, they are the worlds first "imaginauts." The Fantastic Four are not super heroes in the traditional sense. They don't fight crime or patrol the streets of the city. They're astronauts, envoys, explorers...trailblazers.
Challenging the unknown, the Fantastic Four have discovered hidden civilizations and secret nations, initiated human contact with alien races, and breached parallel dimensions. The greatest squad of superhuman adventures ever assembled, they continue to push the bounds of human exploration, and whatever dangers they face, they face as a family
Looking at the figures the design looks great, and very inline with the comics. Each figure comes with Points of Articulation. The Human Torch has 34, The Thing has 29 Points of Articulation, The Invisible Women has 40 points, and Mr. Fantastic is with 38 Points of Articulation. Mr Fantastic also included two extra hand accessories in which you can attached to his arms making him stretch, and forma hammer hand. The Thing comes with Trench coat and sun glasses. The invisible Women and Human Torch come as standard with no accessories.

Overall this is a great item to add to your collection and even though is one of the more common of the Marvel Legends Box set it is still great and displays so well when kept in the box.

You can but the Marvel Legends Fantastic Four Box Set Here on our store - The Toy Scavenger